Digital Printing of Restaurant Menu
The restaurant menu is actually a complete list of services offered by a restaurant or coffee shop. One of the most cost-effective ways to promote a restaurant's brand is to design graphic design and creative photography of its food. This Professional Design can encourage any costumer to try the restaurant's food, which is included in the restaurant's menus. The menus are available to the audience in two ways: either the customers take the menu with them or stay in the restaurant. When the menu is supposed to stay in the restaurant, it means that the menus are to be used many tames and should be printed in less circulation. One of the outstanding features of these menus is that they must have a suitable cover and be resistant against worn and torn. When the menus reach the customer, in addition to the design, they must have a high print quality. All of the above mentioned will be met by digital printing of the restaurant menu. With digital restaurant menu printing, you both have high quality prints and you can use high-weight fantasy papers to make your menu last longer. Digital printing of restaurant menus is also referred to as instant printing, which can help us to have a complete menu at the earliest opportunity and without wasting time.
Digital Printing Paper of Restaurant Menu
For digital printing of restaurant menus, glossy paper is used in different weights, and with different cuts, the shape of the menu can be designed specifically for the restaurant and fast foods.
One of the features of glossy paper is that it is glossy and polished and is widely used for digital color printing. The costs of designing and printing digital menus in restaurants include the cost of paper, printing, design and zinc. Of course, in recent years, the use of kraft paper in digital printing of restaurant menus has also become popular.
Types of Restaurant Menus for Digital Printing:
The restaurant menu can be designed and printed in different ways. Digital menu printing, Menu covers, Menu books, Inside the cafe and restaurant boards, Wooden menus with engraving, Custom menus for reception halls, Booklet with leather or plastic covers, Tract printing, Banner printing, Poster printing, Brochure printing (two-sheet, three-sheet and four-sheet) and Printing in brochures is a new method that is now common. Providing a restaurant menu in any way can be a good tool for effective advertising.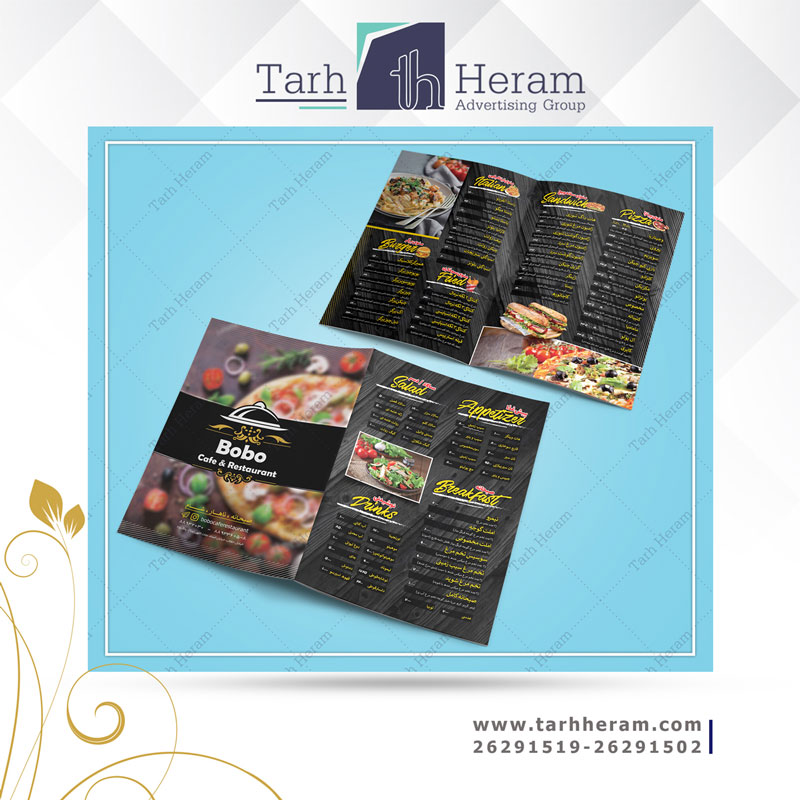 Single page menu:
Because these menus are single-page, they are printed on both sides to include all the content. The appropriate size for them is A3, and by laminating the printed menu, you can increase the life of the menu.
Foldable menu:
There is only one page in foldable menus, except that the foldable pages are located on the inside of the restaurant's menu page, and behind it is an image with the restaurant's logo, cafe, and so on. The A3 size folding restaurant menu is the best choice for digital printing. For more durability, the menu is laminated double-sided.
Bookbinding menus
When a restaurant's menu is large, foldable menus with several pages are used. Since these menus are not single-page, their pages must enter the binding stage after digital printing. The bindings can be punched, hot glue, cold glue and double spring wire.
Similar Articles
Digital Printing of Letterheads on Writing Paper
Design of A4 Size Tri-fold Brochures